The departure of the SS Marloch
On April 15, 1923, a ship called the SS Marloch left Lochboisdale in South Uist, carrying more than 300 people from the islands of Barra, Eriskay, South Uist and Benbecula. They were part of a mass emigration scheme that aimed to create a Catholic settlement in the Canadian prairies, led by a controversial priest named Father John MacMillan. The SS Marloch was one of two ships that departed from the Outer Hebrides that month, the other being the SS Metagama, which sailed from Lewis with another 600 emigrants. Together, they marked one of the largest waves of emigration from the islands in history, and one that would have lasting impacts on both sides of the Atlantic.
The reasons for emigration
The emigrants who boarded the SS Marloch and the SS Metagama had various reasons for leaving their homes and seeking a new life in Canada. Some were motivated by economic hardship, as the islands suffered from poverty, unemployment, overpopulation and land scarcity. Some were attracted by the promise of free land and better opportunities in the Canadian west, where the government was actively recruiting settlers. Some were influenced by religious factors, as they hoped to join a Catholic community that would preserve their faith and culture. And some were simply adventurous, curious or restless, looking for a change of scenery and a fresh start.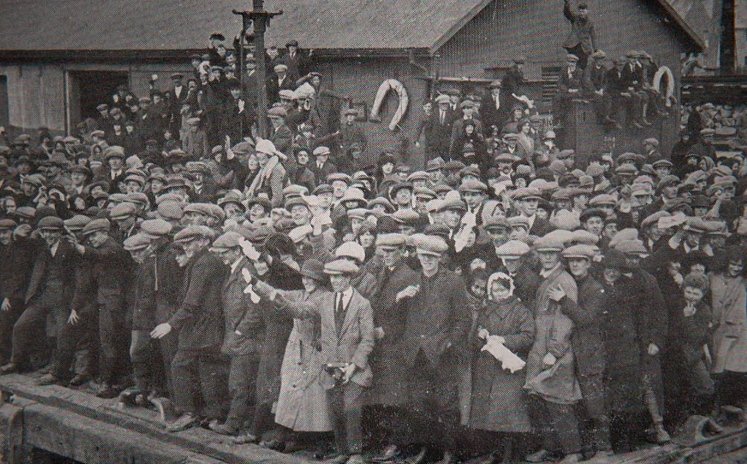 The role of Father John MacMillan
One of the most influential figures behind the emigration scheme was Father John MacMillan, a Catholic priest who was born in Barra and had emigrated to Canada himself in 1909. He became the leader of a group called the Scottish Catholic Colonization Association, which aimed to establish a Catholic colony in Saskatchewan, near the town of St. Brieux. He visited the Outer Hebrides several times between 1919 and 1923, preaching, recruiting and organizing the emigration of hundreds of islanders to his colony. He also arranged for the transportation, accommodation and settlement of the emigrants, as well as providing them with financial and moral support.
However, Father MacMillan was also a controversial and divisive figure, who faced criticism and opposition from various quarters. Some accused him of being a self-serving and manipulative leader, who exploited the islanders' vulnerability and misled them about the conditions and prospects in Canada. Some questioned his motives and methods, as he allegedly favoured his own relatives and friends, and used coercion and pressure to persuade people to emigrate. Some also blamed him for causing social and economic disruption in the islands, as he drained them of their young and able population, and left behind a legacy of grief and loss.
The experiences of the emigrants
The emigrants who left on the SS Marloch and the SS Metagama had different and varied experiences in Canada, ranging from success and happiness to failure and misery. Some adapted well to their new environment, and thrived as farmers, businessmen, teachers, doctors, lawyers and politicians. Some maintained strong ties with their homeland, and kept their language, culture and traditions alive. Some even returned to visit or settle back in the islands, bringing with them stories and gifts from their adopted country.
However, some also faced many challenges and difficulties in their new life, such as harsh weather, isolation, loneliness, discrimination, illness, accidents and deaths. Some struggled to make a living on the land, and had to move to other places or occupations. Some lost contact with their families and friends, and felt alienated from their roots. Some regretted their decision to emigrate, and wished they could go back to their island homes. And some never made it to Canada at all, as they died on board the ships or shortly after their arrival.
The commemoration of the centenary
This year marks the 100th anniversary of the departure of the SS Marloch and the SS Metagama from the Outer Hebrides, and several events and projects have been organized to commemorate this historic occasion. One of them is a series of semi-fictional monologues, called Marloch and Metagama: Voices, which are being screened on BBC Alba. The monologues are written by Iain Finlay Macleod and Hannah McKirdy, and they portray the perspectives and experiences of some of the emigrants and their relatives, based on archival research and oral history. Another project is called Hebridean Homecoming, which is led by the Outer Hebrides Heritage Society. It aims to reconnect with the descendants of the emigrants, and to document and share their stories and memories.
The centenary of the emigration is also an opportunity to reflect on the impact and legacy of the SS Marloch and the SS Metagama, and to acknowledge the silence and sorrow that surrounded them for many years. As one of the monologues says, "There was a silence about the Marloch. A silence that lasted for generations. A silence that was broken only by whispers and tears."