Los Angeles Lakers' guard Austin Reaves has made a strong impression in his debut season, earning more opportunities on the court and respect off the court. The 24-year-old player signed a sponsorship deal with Chinese brand Rigorer in 2022, and it has been reported that his first signature shoe, AR1, will be released later this year. The shoe is set to launch on the official e-commerce site of Rigorer in the Summer of 2023. This partnership marks the first time that Rigorer has signed with a basketball player, and the initial colorway of the sneaker comes in purple and gold, as a nod to the LA Lakers team.
Becoming a fan-favorite player
Since signing the deal with the Chinese label in 2022, Reaves has been sporting Rigorer shoes throughout the 2022-23 season. After LeBron James and D'Angelo Russell were sidelined for a few games in March 2023, Reaves stepped up and averaged 17 points per game. Currently, he averages 12.4 points, 3.1 rebounds, and 3.12 assists per game. Reaves has proved to be a vital player in the LA Lakers rotation and continues to grow every season.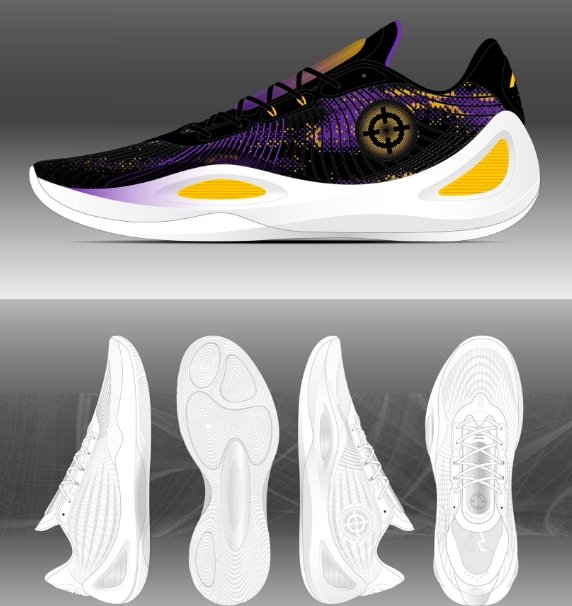 A sneak peek into the AR1 sneaker
While no technical specifications have been announced yet, the visual image of the sneaker has given a sneak peek. The sneaker features Reaves' signature, his logo mimicking the reticle of a firearm, and a digitally expressed image of the iconic LA Lakers colorway. The base of the shoes is kept jet black with the TPU wires locking down the entire upper. Pops of yellow and purple are added to the entire shoe. The sneaker further features a sight-lock logo at the heel, a gradient tongue, a white sole unit underfoot, and bright yellow outsole windows.
Joining the expanding list of NBA players who have signed with Chinese apparel companies
Reaves joins the expanding list of NBA players who have signed with Chinese apparel companies, such as Dwayne Wade who signed for Li-Ning and Klay Thompson who signed for Anta. The collaboration between Austin Reaves and Rigorer is highly anticipated, and fans are eagerly waiting for the release of the AR1 sneaker. The pair is rumored to release in various colorways throughout the 2023-24 season.
Austin Reaves' partnership with Rigorer is a significant step in his career, and the release of his signature shoe, AR1, marks a milestone for both him and the Chinese brand. As Reaves continues to improve his game, fans will be able to follow his journey both on and off the court, with his signature sneaker being a testament to his hard work and dedication.