How a family vacation turned into a nightmare
Humza Yousaf, the First Minister of Scotland, is facing a personal tragedy as his mother-in-law, Elizabeth El-Nakla, is trapped in Gaza with her husband, Maged, amid the escalating violence between Israel and Hamas. The couple had gone to visit their relatives in Gaza for a family vacation, but they were unable to leave when the war broke out.
The harrowing phone call that revealed their plight
On Wednesday, SNP MP Chris Law revealed in the Commons during Prime Minister's Questions that El-Nakla had made her "final goodbyes" to her family in a phone call with Yousaf and his wife, Nadia, that morning. Law said that El-Nakla told them she "can't take another night" of the bombing and shelling that has killed hundreds of civilians and destroyed thousands of homes.
Law said that members of El-Nakla's family were hit by a rocket from a drone on Tuesday, and that she was saying her last words to her loved ones, hoping for a miracle. Law urged the Prime Minister to do everything in his power to open the Rafah border crossing in the south of the Gaza Strip, which is controlled by Egypt, to allow British citizens and humanitarian aid to enter and exit Gaza.
The Prime Minister's response and actions
Rishi Sunak, who was standing in for Boris Johnson at PMQs, expressed his sympathy for the families affected by the conflict and assured Law that the UK government was working hard to ensure the safety of British nationals in Gaza. He said that he had spoken to leaders in the region, especially Egypt, about opening the Rafah crossing. He also said that the UK was one of the most significant contributors to the United Nations' efforts to support Palestinian refugees.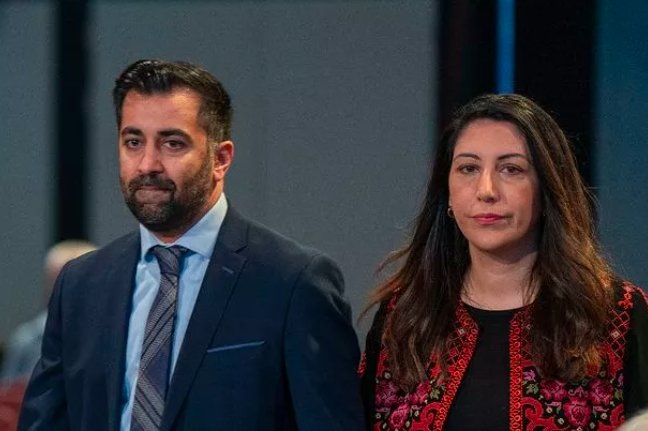 Sunak also reiterated the UK's position that there should be an immediate ceasefire and a lasting peace based on a two-state solution. He said that the UK was engaging with both Israel and Hamas to de-escalate the situation and prevent further civilian casualties.
The First Minister's plea for an honest broker
Earlier on Wednesday, Yousaf had spoken to BBC Breakfast and said that he had just talked to his mother-in-law, who had told him they were safe for now. He said that they were staying with 100 other people in a house across the road from where an Israeli missile had struck on Tuesday, smashing all the windows and mirrors.
Yousaf said that he and his wife were "torn apart with worry" as their supplies were low and they did not know when they would be able to leave Gaza. He also called for an independent investigation of the explosion at the al Ahli Arab Hospital, which Hamas blamed on Israel but Israel denied involvement. He said that the explosion was a "complete and utter human tragedy" that killed hundreds of people.
Yousaf also said that an "honest broker" was needed in the Middle East to resolve the "root cause" of the hostilities, which he identified as the lack of a Palestinian state alongside Israel. He said that until there was a concerted effort to broker a two-state solution, there would be no end to the cycle of violence.
The fate of the El-Nakla family and others in Gaza
The El-Nakla family is among thousands of British citizens who are trapped in Gaza, facing daily threats to their lives and livelihoods. According to the UN, more than 200 people have been killed in Gaza since May 10, including 61 children and 36 women. More than 1,400 people have been injured and more than 52,000 people have been displaced.
The UN has warned that Gaza is on the brink of a humanitarian catastrophe, as it faces shortages of food, water, medicine and fuel. The UN has also called for an immediate halt to hostilities and access for humanitarian workers and aid.
As the world watches with horror and outrage, many are wondering if there will be any hope for peace and justice in the region. Will the El-Nakla family and others like them be able to return home safely? Will there be any accountability for the atrocities committed by both sides? Will there be any political will to address the underlying issues that fuel this conflict? These are some of the questions that remain unanswered as the crisis continues.
---
Category: News World News
Meta Description: 😢😢😢 SNP MP reveals Humza Yousaf's mother-in-law made 'final goodbyes' in Gaza as she is trapped by war. Read how a family vacation turned into a nightmare.
URL Slug: snp-mp-humza-yousaf-mother-in-law-final-goodbyes-gaza
Image: humza yousaf mother in law gaza