A humble two-bedroom house in Scotland has been registered as the new headquarters of a vodka company allegedly used by the notorious Kinahan crime cartel to launder millions of euros in drug money.
How a modest home became a money laundering hub
The house, located at 15 Cumbernauld Road in Stepps, a town near Glasgow, was listed as the new address for Nero Drinks on Tuesday by Nicola Morrissey, the wife and business partner of Johnny Morrissey, a convicted drug trafficker and associate of Daniel Kinahan.
According to documents filed with the UK company's office, Nicola Morrissey is the sole owner and director of Nero Drinks, a premium vodka brand that claims to be vegan and gluten-free. However, the US Department of Treasury has alleged that Nero Drinks is indirectly owned and controlled by Johnny Morrissey, who serves as the brand ambassador and has given a significant portion of the business to Kinahan as compensation for drug shipments seized by law enforcement.
The lavish lifestyle of the Morrisseys
Johnny and Nicola Morrissey were arrested in September last year in Malaga, Spain, where they lived in a luxurious villa with their young son. Spanish police claimed that they were part of the Kinahan cartel's most important money laundering operation in Spain and that they used Nero Drinks to wash up to €350,000 a day through a system called Hawala, which originated in the Middle East as a trust-based money transfer method.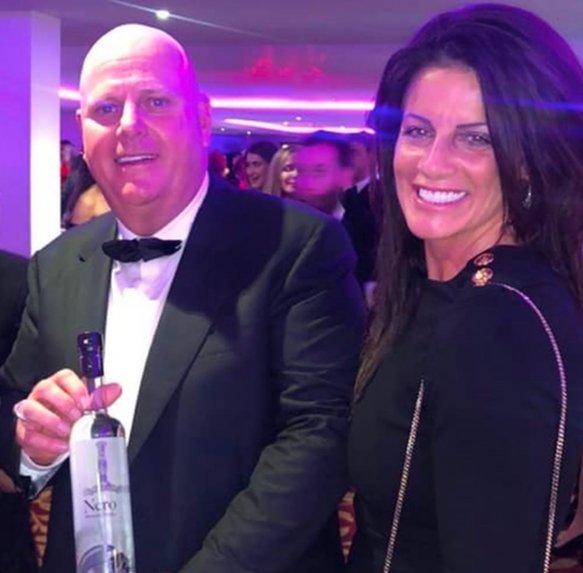 The couple had previously flaunted their wealth and lifestyle in an interview with Marbella's Exclusive Life Magazine in 2021, where they showed off their mansion, sports cars and plans to expand Nero Drinks to the US market in 2022. "Everything John and I do is to provide a happy and secure life for [the couple's son] and our family," Nicola Morrissey said.
The US sanctions against the Kinahan cartel
The arrest of the Morrisseys followed a series of sanctions imposed by the US Department of Treasury in April last year against Daniel Kinahan and his associates for their involvement in drug trafficking and money laundering activities. The sanctions designated Kinahan as a "specially designated narcotics trafficker" under the Kingpin Act, which freezes his assets and prohibits US citizens from doing business with him.
The sanctions also targeted several entities allegedly linked to Kinahan, including Nero Drinks, which was described as "a key front company for laundering illicit proceeds". The US Department of Treasury said that Kinahan had "used his influence and contacts within professional boxing to launder money" and that he had "exploited this platform to enhance his reputation and status among international criminal networks".
The legal battle to save Nero Drinks
Since Johnny Morrissey's arrest and detention in Spain pending trial, Nicola Morrissey has been fighting to keep Nero Drinks alive. In February this year, she filed an objection against its dissolution, which had been initiated by UK authorities after the US sanctions. She claimed that Nero Drinks was a legitimate company that had nothing to do with her husband's criminal activities.
However, her efforts may be in vain, as UK authorities have the power to strike off the company's name from the UK's Registrar of Companies and seize its assets under the Proceeds of Crime Act. Moreover, her move to register a modest Scottish house as the new headquarters of Nero Drinks may raise more suspicions about the true nature and purpose of the company.
What will happen next?
The fate of Nero Drinks and its owners remains uncertain as they face legal challenges from both sides of the Atlantic. Will Nicola Morrissey be able to prove her innocence and save her business? Will Johnny Morrissey be extradited to the US or face trial in Spain? Will Daniel Kinahan be brought to justice for his alleged crimes? These are some of the questions that await answers in this intriguing case of crime, money and vodka.