Murray's frustration boils over after another defeat
Andy Murray, the former world number one and two-time Wimbledon champion, has admitted that he is not enjoying playing tennis after suffering another disappointing defeat to Australian Alex de Minaur in the first round of the Paris Masters. Murray had lost all five previous matches against the 13th-ranked De Minaur, including three this season with the most recent coming in Beijing where the Briton failed to convert three match points. The 36-year-old looked on course to end that run on Monday after recovering from losing the opening set tie-break to lead 5-2 in the decider. However, Murray failed to win either of his next two service games – despite having a match point in the second – and De Minaur prevailed 7-6 (5) 4-6 7-5 in just over three hours. Murray's temper boiled over during the final set, knocking the drinks bottles and towel off his bench during a change of ends before he smashed his racquet off the floor after the last point.
Murray says he is not finding any positivity on the court
The disappointing run of form has left Murray questioning what else he has to do to get back to winning ways. He told several national newspapers: "I'm not really enjoying it just now in terms of how I feel on the court and how I'm playing. The last five, six months haven't been that enjoyable, so I need to try and find some of that enjoyment back because playing a match like that there's not much positivity there. When I play a good point, I'm not really getting behind myself and then in the important moments, that will to win and fight that has always been quite a big, big part of my game…" Murray, who has undergone two hip surgeries and battled various injuries in recent years, said he will take some time to consider whether to play for Great Britain in the Davis Cup at the end of November.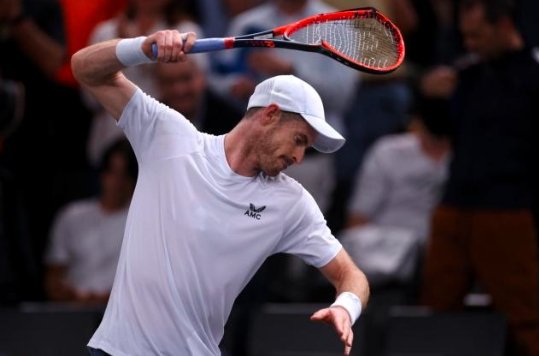 De Minaur's girlfriend Katie Boulter is not happy either
Another Briton who did not enjoy the match was Katie Boulter – the girlfriend of De Minaur. The British number one wrote on X, formerly known as Twitter: "Had enough Alex and Andy for the rest of my life. No more please and thank you." Boulter, who is ranked 113th in the world, has been dating De Minaur since last year and often travels with him to tournaments. She has also faced criticism from some fans for supporting her boyfriend over her compatriot. Boulter has defended her relationship with De Minaur, saying that they are both professional tennis players who respect each other's careers.
Murray faces a tough decision on his future
Murray, who is entered for next week's ATP 250 event in Metz, said he will need a lot of work and consistent work to give himself a chance of competing at the highest level again. He added: "If I want to keep going, I'm going to need a lot of work. It's not just going to be like one or two weeks of training to get me to where I need to get to, it's going to have to be a lot of work and consistent work to give myself a chance." Murray, who has won three Grand Slam titles and two Olympic gold medals in his illustrious career, has slipped to 166th in the world rankings and has not reached a quarter-final since winning the European Open in Antwerp in 2019. He has also struggled to qualify for the main draws of the major tournaments, having to rely on wild cards or lower-tier events. Murray has said that he does not want to retire from tennis until he feels he has given his best, but he also does not want to keep playing if he is not enjoying it.
What will Murray do next?
Murray's fans and fellow players have expressed their support and admiration for his resilience and determination, but they have also wondered how long he can keep going. Murray has said that he will make a decision on his future after the end of the season, but he has also hinted that he might not play in the Davis Cup, which could be a sign that he is considering hanging up his racquet. Murray has been one of the greatest players of his generation, but he has also faced some of the toughest challenges and setbacks. He has shown incredible courage and passion for the sport, but he has also admitted that he is not finding any joy in it anymore. Will Murray continue to fight for his place in the tennis world, or will he decide to call it a day and end his remarkable career? The answer is not clear, but whatever he chooses, he will always be remembered as a legend of the game.