A father-daughter drama set in Turkey
Aftersun is a critically acclaimed drama film directed by Edinburgh-born Charlotte Wells. It stars Paul Mescal and Frankie Corio as a father and daughter who go on a holiday to Turkey after a family tragedy. The film explores their strained relationship and their attempts to reconnect with each other and themselves.
The film was released in 2022 and has received rave reviews from critics and audiences alike. It has been praised for its realistic and nuanced portrayal of grief, guilt, and healing. The film has also been lauded for its stunning cinematography, authentic dialogue, and powerful performances by the lead actors.
Aftersun has been nominated for five Bafta Scotland awards, including Feature Film, Director – Fiction, Actor – Film (Paul Mescal), Actress – Film (Frankie Corio), and Writer – Film/Television (Charlotte Wells).
A schoolboy impostor and a crime novelist
Another film that has received multiple nominations is My Old School, a documentary that tells the story of Brian MacKinnon, a schoolboy impostor who enrolled in a prestigious Scottish boarding school under a false identity. The film features interviews with MacKinnon himself, as well as his former classmates, teachers, and friends. The film also explores the psychological and social factors that led MacKinnon to create his elaborate deception.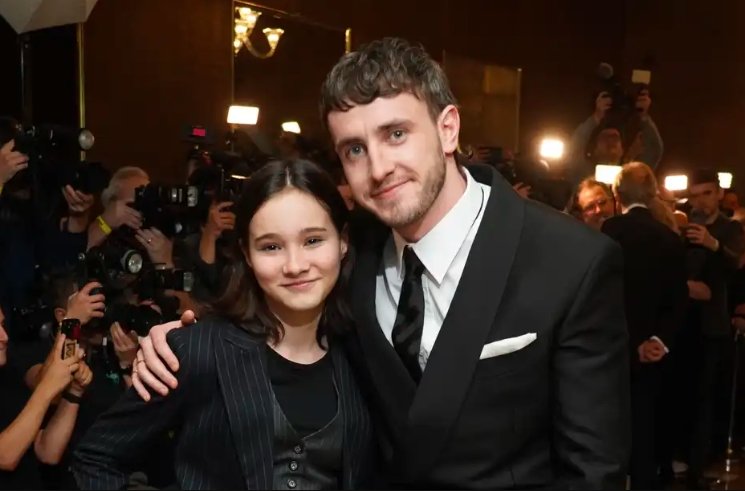 My Old School has been nominated for three Bafta Scotland awards, including Single Documentary, Director – Factual (Alan Cumming), and Editing.
Two TV series that have also earned nominations are Mayflies and Karen Pirie. Mayflies is a drama based on the novel by Andrew O'Hagan, which follows four friends who reunite for a weekend trip in 2017, after meeting as teenagers in 1986. The series stars Martin Compston and Tony Curran as the older versions of the friends, who reflect on their past and present lives.
Karen Pirie is a crime drama based on the novels by Val McDermid, which follows a young detective who investigates cold cases in Scotland. The series stars Molly Windsor as the titular character, who uses her intuition and intelligence to solve complex mysteries.
Mayflies has been nominated for two Bafta Scotland awards, including Television Scripted and Actor – Television (Martin Compston). Karen Pirie has also been nominated for two Bafta Scotland awards, including Actress – Television (Molly Windsor) and Sound.
A celebration of Scottish talent
The Bafta Scotland awards are an annual event that celebrates the best of Scottish film, television, and games. The awards are organised by the British Academy of Film and Television Arts (Bafta), which is an independent charity that supports, develops, and promotes the art forms of the moving image.
The ceremony will be held at the DoubleTree by Hilton Hotel Glasgow Central on November 14th. It will be hosted by Edith Bowman, who is a Scottish broadcaster and podcast host. Bowman said that she is "over the moon" to be asked back to host the awards, and that it is an honour to celebrate and shine a spotlight on brilliant Scottish talent.
Jude MacLaverty, the director of Bafta Scotland, said that the nominations this year reflect the incredible standard of work and creativity that is possible with support for and investment in the Scottish screen industries. She also said that the awards are a great source of pride to be able to bring the creative community together and celebrate another exceptional year in film and television.
Who will take home the trophies?
The winners of the Bafta Scotland awards will be announced at the ceremony on November 14th. The nominees will be competing for 19 awards across various categories, such as Feature Film, Television Scripted, Game, Animation, Short Film, Current Affairs, Comedy/Entertainment Programme, Director – Fiction/Factual/Game/Animation/Short Film/Television Scripted/Television Entertainment/Current Affairs/Single Documentary/Specialist Factual/Features & Factual Series/Sport News & Current Affairs/Gameplay/Soundtrack/Original Music/Sound Design/Art Direction/Character Design/Narrative Design/Technical Achievement/New Talent/New Work/New Voice/New Director/New Writer/New Producer.
Some of the other films, TV shows, games, and individuals that have been nominated include Limbo, The Nest, Dead Man's Phone, Murder Trial: The Disappearance of Margaret Fleming, Guilt, Elizabeth Is Missing, Vigil, Still Game: The Final Farewell Special Scene Selections: Jack & Victor Say Cheerio!, Only An Excuse?, Susan Calman's Grand Day Out In Wales/Scotland/Northern Ireland/Ireland/England/The Channel Islands/The Isle Of Man/Cornwall & Devon/The Cotswolds & Oxfordshire/Yorkshire & Northumberland/Lake District & Lancashire/Norfolk & Suffolk/The Midlands/Wales Revisited/Scotland Revisited, The Rap Game UK, The Dog Ate My Homework, Scotland's Home Of The Year, Love It Or List It, Location Location Location, Grand Designs, Escape To The Chateau, A Place In The Sun, Homes Under The Hammer, DIY SOS: The Big Build, George Clarke's Amazing Spaces, Kirstie And Phil's Love It Or List It, Kirstie's Handmade Christmas, Escape To The Country, The Repair Shop, Antiques Roadshow, Bargain Hunt, Flog It!, Cash In The Attic, Dickinson's Real Deal, Four In A Bed, Come Dine With Me, Gogglebox, Celebrity Gogglebox, Celebrity MasterChef, MasterChef: The Professionals, Great British Menu, Great British Bake Off, Bake Off: The Professionals, Junior Bake Off, Celebrity SAS: Who Dares Wins, SAS: Who Dares Wins, The Circle, The Circle Celebrity, RuPaul's Drag Race UK, Glow Up: Britain's Next Make-Up Star, Strictly Come Dancing, Dancing On Ice, The Voice UK, The Voice Kids, The Masked Singer, The Masked Dancer, I'm A Celebrity… Get Me Out Of Here!, Celebrity Hunted, Hunted, The Apprentice, The Apprentice: You're Fired!, Dragons' Den, First Dates, First Dates Hotel, Married At First Sight UK, Love Island, Too Hot To Handle, Naked Attraction, Celebs Go Dating, Celebs Go Dating: The Mansion, The Cabins, Five Guys A Week, Flirty Dancing, Take Me Out, Dinner Date, Blind Date, Don't Rock The Boat, The Cube, The Million Pound Cube, Who Wants To Be A Millionaire?, Tipping Point, Tipping Point: Lucky Stars, The Chase, The Chase Celebrity Specials, Beat The Chasers, Pointless, Pointless Celebrities, Catchphrase, Catchphrase Celebrity Specials, Family Fortunes, Family Fortunes Celebrity Specials, Supermarket Sweep, Supermarket Sweep Celebrity Specials, Celebrity Catchphrase Christmas Special 2020/Catchphrase Christmas Special 2020/Catchphrase New Year's Eve Special 2020/Catchphrase New Year's Day Special 2021/Catchphrase Mother's Day Special 2021/Catchphrase Easter Special 2021/Catchphrase Father's Day Special 2021/Catchphrase Halloween Special 2021/Catchphrase Bonfire Night Special 2021/Catchphrase Christmas Special 2021/Catchphrase New Year's Eve Special 2021/Catchphrase New Year's Day Special 2022/Catchphrase Valentine's Day Special 2022/Catchphrase St Patrick's Day Special 2022/Catchphrase Mother's Day Special 2022/Catchphrase Easter Special 2022/Catchphrase Father's Day Special 2022/Catchphrase Summer Special 2022/Catchphrase Halloween Special 2022/Catchphrase Bonfire Night Special 2022/Catchphrase Christmas Special 2022/Catchphrase New Year's Eve Special 2022/Catchphrase New Year's Day Special 2023 and many more.
Who will take home the trophies? Will Aftersun sweep the awards with its five nominations? Will My Old School surprise the audience with its three nods? Will Mayflies or Karen Pirie win the hearts of the voters with their two nominations each? Or will there be some unexpected winners from the other nominees? The answer will be revealed on November 14th at the Bafta Scotland awards ceremony.