A spectacular show of lights and colors at Gosford House
Wondrous Woods is a dazzling lighting event that will take place at Gosford House near Longniddry, Scotland, from October 27 to November 19. The event will feature a 1.5km trail of fabulous lighting trails that will take visitors through ancient private woodlands and unseen gardens, ending at the fully illuminated Gosford House.
The event is designed and produced by GC Live and delivered by technical partners, 21CC Group, who have created a breathtaking experience for all ages and abilities. The event will also include food and shopping options for guests to enjoy.
A special night for people with additional support needs
One of the highlights of Wondrous Woods is a specially adapted event that will suit those with additional support needs (ASN) such as autism. The event will take place on November 15 and will be sponsored by Edinburgh investment managers Walter Scott & Partners through their Giving Group.
The ASN night will use lighting and special effects to create a relaxed environment for those who experience sensory overload. The event will also have reduced capacity, lower sound levels, and trained staff to assist the guests.
Geoff Crow, director of 21CC Group, said: "We are thrilled to be taking this magical lighting event to Gosford House and very appreciative of the support from Walter Scott & Partners for this special night. The trail is breathtaking so we're really excited about welcoming all our visitors back to Wondrous Woods and delighted to be able to provide another really special occasion for anyone with additional support needs."
How to book tickets and get there
Tickets for Wondrous Woods can be found online here and for the ASN night here. The event runs over Fridays, Saturdays and Sundays from October 27 to November 19. There will also be extended runs from Thursday to Sunday on the final week.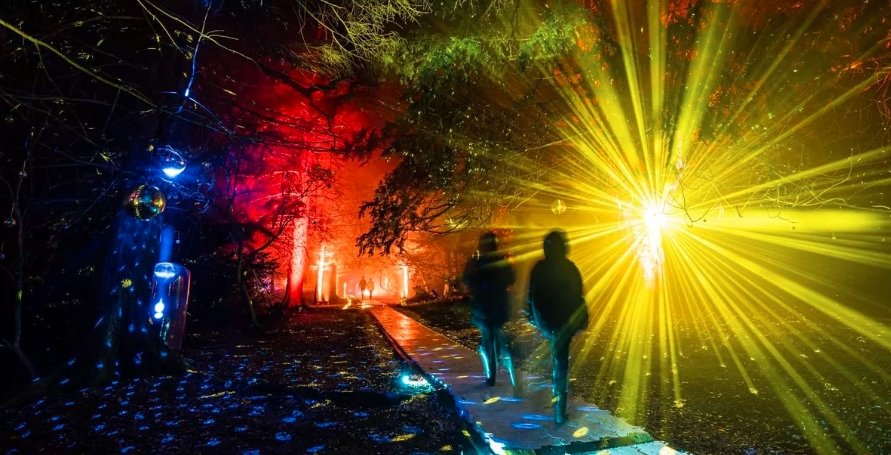 The event is located at Gosford House, Longniddry, East Lothian, EH32 0PY. There is free parking available on site. The nearest train station is Longniddry, which is about a 20-minute walk from the venue. There are also bus services that stop near Gosford House.
What to expect and what to bring
Wondrous Woods is an outdoor event that lasts about an hour and a half. Visitors are advised to dress warmly and wear suitable footwear for walking on uneven surfaces. The event is wheelchair and buggy accessible, but some parts of the trail may be challenging for some users.
Visitors are welcome to bring their own torches, cameras, and snacks. There will also be food stalls and vendors selling hot drinks, snacks, and souvenirs at the venue. Dogs are not allowed at the event, except for assistance dogs.
A unique opportunity to see Gosford House in a new light
Gosford House is a stunning neoclassical mansion that was built in the late 18th century by the Earl of Wemyss. The house is usually closed to the public, except for occasional guided tours and events. Wondrous Woods offers a rare chance to see the house in a new light, literally.
The house will be illuminated by various lighting effects that will highlight its architectural features and history. Visitors will also be able to see some of the artworks and collections inside the house, such as paintings, sculptures, furniture, and ceramics.
A magical experience for everyone
Wondrous Woods is more than just a lighting event. It is a celebration of nature, art, and culture that will enchant and inspire everyone who attends. It is also a way of supporting local businesses and charities that have been affected by the pandemic.
Dennis Wyles, client investment manager at Walter Scott Giving Group, said: "As we're based in Edinburgh we love to give something back to the community and like to focus on projects that can really make an impact. Wondrous Woods is a truly magical event and to be able to help visitors, who may not ordinarily have been able to attend something as awe-inspiring as this, is really meaningful."
Wondrous Woods promises to be an unforgettable experience that will brighten up the autumn nights. Don't miss this opportunity to see Gosford House in a new light!