Scotland secured its place in the Euro 2024 tournament after Spain beat Norway 1-0 in a crucial Group A match on Thursday night. The Tartan Army can now celebrate their fourth appearance in the European Championships and start planning their trip to Germany next summer.
How Scotland made it to Euro 2024
Scotland had a strong campaign in the qualifying group, winning five of their six games so far. Their only defeat came against Spain in Sevilla last week, where they lost 2-0 to the reigning champions. However, they still had a chance to qualify if Spain could get a result against Norway in Oslo.
Scotland fans were nervously watching the game on TV, hoping for a Spanish victory or a draw that would end Norway's hopes of catching them. They got their wish when Barcelona youngster Gavi scored the only goal of the game in the 52nd minute, after a lengthy VAR check.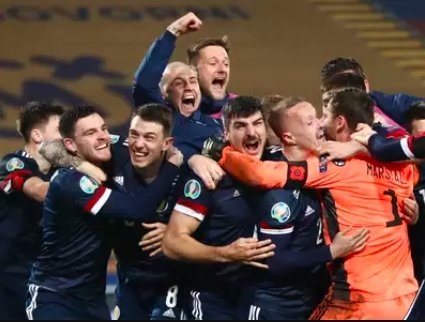 The goal sparked jubilation among the Scottish supporters, who knew they had booked their ticket to Germany with two games to spare. They also have a chance to top the group if they can beat Spain in Glasgow next month.
Who else has qualified for Euro 2024
Spain and Scotland join Germany, France, Belgium and Portugal as the teams that have already qualified for Euro 2024. The tournament will be hosted by Germany from June 12 to July 12, 2024. It will feature 24 teams divided into six groups of four, with the top two teams from each group and the four best third-placed teams advancing to the knockout stage.
The draw for the group stage will take place on December 2, 2023 in Berlin. The host cities for the tournament are Berlin, Munich, Dortmund, Cologne, Frankfurt, Stuttgart, Hamburg, Leipzig, Dusseldorf and Gelsenkirchen.
What are Scotland's chances in Euro 2024
Scotland will be hoping to improve their performance from Euro 2020, where they failed to progress from the group stage. They finished bottom of Group D with one point from three games, losing to Czech Republic and Croatia and drawing with England.
However, Scotland have shown signs of improvement under manager Steve Clarke, who took over in May 2019. He led them to their first major tournament since 1998 by winning a dramatic penalty shootout against Serbia in the play-offs. He also guided them to a historic win over Austria in Vienna last month, which boosted their chances of qualifying for Euro 2024.
Scotland have a talented squad that includes players from some of the top clubs in Europe, such as Liverpool's Andy Robertson, Manchester United's Scott McTominay, Arsenal's Kieran Tierney and Aston Villa's John McGinn. They also have some promising young talents such as Chelsea's Billy Gilmour, Celtic's David Turnbull and Rangers' Nathan Patterson.
Scotland will face some tough opponents in Euro 2024, but they will also have the support of their passionate fans, who are known as the Tartan Army. They will be eager to see their team make history and reach the knockout stage for the first time.
How to follow Euro 2024 on CNN
CNN will provide comprehensive coverage of Euro 2024 across all platforms. You can watch live matches, highlights, analysis and interviews on CNN International and CNN.com. You can also follow the latest news, scores, standings and statistics on our website and app. You can also join the conversation on social media using #Euro2024.
Euro 2024 is one of the most anticipated events in the world of football. It will showcase some of the best players and teams in Europe, as well as some exciting newcomers and underdogs. It will also be a celebration of diversity and unity in a continent that has faced many challenges in recent years.
Don't miss any of the action and drama of Euro 2024 on CNN.