Scotland is facing a wet and windy week as the Met Office has issued two yellow weather warnings for rain, covering most of the western parts of the country. The downpours could cause flooding, travel disruption, and power cuts in some areas.
How much rain is expected and where?
The first weather warning is in place until 1pm on Wednesday, affecting Glasgow and surrounding areas, as well as much of Ayrshire, Argyll and Bute, and parts of the Highlands as far north as Fort William. The Met Office said that up to 50mm of rain could fall in some areas, particularly in the Highlands, where the rainfall could be enhanced by the orographic effect.
The second weather warning starts at 12pm on Friday and lasts until 11.59pm on Saturday, extending further north past Inverness and covering much of the Inner Hebrides. The Met Office said that up to 150mm of rain could fall in parts of the Highlands, especially over high ground.
What are the impacts of the heavy rain?
The heavy rain could lead to difficult driving conditions, with flooding and spray on roads. Traffic Scotland has warned some roads may close due to flooding and has issued safety advice online for drivers. Drivers are advised to: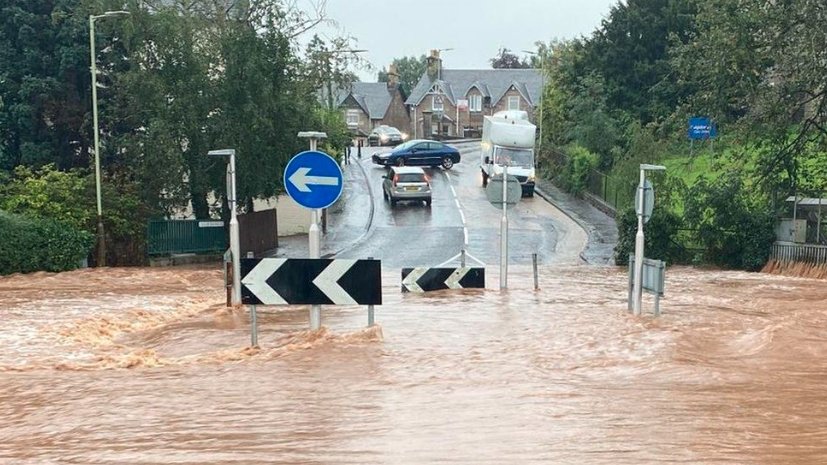 Plan ahead and check the weather forecast before setting off
Drive with care and reduce speed in wet conditions
Avoid driving through flood water and use alternative routes if possible
Keep a safe distance from other vehicles and watch out for pedestrians and cyclists
Use dipped headlights and fog lights if visibility is poor
The heavy rain could also cause disruption to public transport services, such as trains and buses. ScotRail announced on Wednesday that a replacement bus service has been put in place on the West Highland route due to a fallen tree. The rail provider has urged passengers to keep up to date with disruptions to services online and on social media. Network Rail has also issued guidance on speed restrictions in place across multiple lines.
The heavy rain could also affect power supplies, as water could damage electrical equipment and cause short circuits. The Met Office said that some communities could become cut off by flooded roads, and that there is a small chance of fast flowing or deep floodwater causing danger to life.
How to prepare for the heavy rain and flooding?
The Scottish Environment Protection Agency (SEPA) has issued flood alerts and warnings for several areas, advising people to be prepared and take action. SEPA said that people should:
Sign up for free flood messages by phone, text, or email
Check the SEPA website or call Floodline on 0345 988 1188 for the latest information on flooding in their area
Prepare a flood kit with essential items such as torch, radio, batteries, phone charger, medication, insurance documents, and emergency contact numbers
Move valuables and important documents to a safe place, preferably upstairs
Put sandbags or flood barriers at doors and windows to prevent water from entering the property
Turn off gas, electricity, and water supplies if instructed to do so by the authorities
Do not walk, swim, or drive through flood water, as it could be contaminated or hide hazards
Listen to the advice of the emergency services and evacuate if told to do so
What is the outlook for the rest of the week?
The Met Office said that the heavy rain is caused by a series of low pressure systems moving across the Atlantic, bringing moist and unstable air to Scotland. The weather is expected to remain unsettled for the rest of the week, with showers and strong winds at times.
However, there could be some respite on Thursday, as the weather is expected to be drier and brighter for most parts of the country. The Met Office said that there could be some sunny spells and warmer temperatures, especially in the east, where the foehn effect could boost the mercury to the high teens.
STV weather presenter Philip Petrie described the conditions as a "typical autumnal start and a typically Scottish start to October". He said: "The winds switch to a south westerly on Friday meaning western parts of the country once again bear the brunt of the heavy rainfall throughout the day."
He added: "As we head into the weekend, the weather remains unsettled with further spells of rain and strong winds, but also some drier and brighter interludes. The temperatures will be around average for the time of year, but feeling cooler in the wind and rain."