Glasgow Life admits losing track of Rodin's Les Bourgeois de Calais
Glasgow Life, the organisation that manages the city's museums, has admitted that it has lost track of a sculpture by the famous French artist Auguste Rodin. The plaster version of Les Bourgeois de Calais, which is estimated to be worth about £3m, was damaged while on display in Kelvingrove Park in 1949 and its location is currently unknown.
The sculpture is one of about 1750 items that are unlocated in Glasgow's museums collection, according to a freedom of information request by the Sunday Times. The missing items also include a painting of Billy Connolly's banjo by John Byrne, a Scottish artist and playwright.
Rodin's Les Bourgeois de Calais depicts heroic sacrifice
Rodin's Les Bourgeois de Calais is a masterpiece of sculpture that depicts six citizens of Calais who offered themselves as hostages to the English king Edward III in 1347 to end the siege of their city during the Hundred Years' War. The six men are shown in various expressions of anguish, courage and dignity, as they prepare to face their fate.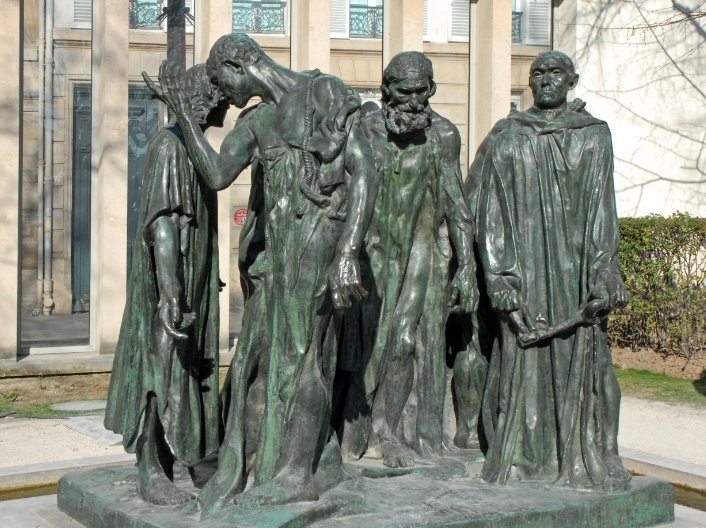 The original bronze version of the sculpture was commissioned by the city of Calais in 1884 and is displayed in front of the town hall. Rodin made several copies of the sculpture in bronze and plaster, which are exhibited in various museums around the world, such as the Victoria Tower Gardens in London, the Metropolitan Museum of Art in New York and the Rodin Museum in Paris.
Glasgow Life says it has improved its cataloguing and storage
Glasgow Life said that it has improved its cataloguing and storage of the museums collection over the last 30 years, and that it has found objects that were previously recorded as unlocated. It also said that it has robust processes in place to prevent theft and to report any historic losses to the police and the Art Loss register.
A spokesperson for Glasgow Life said: "The process of recording, cataloguing and caring for the Glasgow Museums Collection has improved significantly since it was founded in the 1860s. For 30 years, the cataloguing of the collection has been increasingly centralised using the Museum's Collection Management System. As part of the major museums capital projects in Glasgow over the last 20 years, the storage of the collection has also been improved."
Conservative MSP slams Glasgow Life for betraying heritage
However, not everyone is satisfied with Glasgow Life's explanation. Alexander Stewart, the deputy culture spokesperson for the Scottish Conservatives, said that the extent of the losses was "absolutely beggars belief" and "a betrayal of our heritage".
He said: "That the National Museums of Scotland have lost sight of so many crucial – and in the main, priceless and irreplaceable – artefacts is beyond deeply concerning."
He also called for an urgent investigation into how Glasgow Life could lose track of such valuable items and demanded that they be recovered as soon as possible.
Where is Rodin's Les Bourgeois de Calais now?
The mystery of Rodin's Les Bourgeois de Calais remains unsolved. It is possible that the plaster sculpture was destroyed or discarded after it was damaged in 1949, or that it was stolen or sold by someone who did not realise its value. It is also possible that it is still somewhere in Glasgow, hidden in a warehouse or a basement, waiting to be rediscovered.
Rodin himself once said: "What makes my Thinker think is that he thinks not only with his brain, with his knitted brow, his distended nostrils and compressed lips, but with every muscle of his arms, back, and legs, with his clenched fist and gripping toes."
Perhaps one day, someone will find Rodin's Les Bourgeois de Calais and make them think again.