Israel has given an unprecedented evacuation order to the residents of northern Gaza, warning them to flee south or face a massive ground invasion. The move has sparked outrage and fear among the Palestinians, who have no safe place to go amid the relentless bombardment and blockade. But what is behind Israel's ultimatum? Is it a humanitarian gesture or a strategic plan to change the Middle East?
The toll of the siege on Gaza's hospitals
The Israeli airstrikes and power blackouts have taken a terrible toll on Gaza's hospitals, which are struggling to cope with the influx of wounded and sick people. Doctors say they are running out of fuel, medicine, and equipment, and have to make life-or-death decisions on who to treat. Some of the most vulnerable patients are newborn babies in incubators, the elderly on oxygen, and those who need kidney dialysis or X-rays. The hospitals are also at risk of being hit by the bombs, as 18 UN-run schools have been targeted so far.
The plight of the displaced Gazans
More than 338,000 people have fled their homes in Gaza, seeking shelter in UN-run schools, relatives' houses, or hotels. But none of these places are safe from the Israeli attacks, which have killed 2200 Palestinians and wounded 8700 so far. The UN and humanitarian organizations have condemned Israel's evacuation order as impossible and inhumane, saying it would have devastating consequences for the civilians. They have also called for an immediate ceasefire and access to humanitarian aid.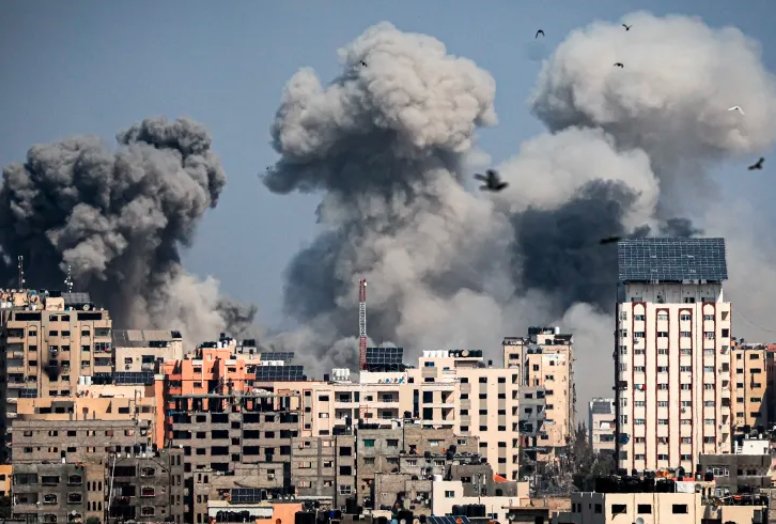 The fate of the hostages held by Hamas
One of the reasons for Israel's military response is the unprecedented attack by Hamas militants from Gaza last Saturday, which killed 1300 people and wounded thousands more in Israel. Hamas also seized an estimated 150 hostages, including children, women, and foreign nationals, who are being held in the network of tunnels under Gaza. Israel has said that there will be no humanitarian pause to its siege until all its hostages are freed. However, experts say that conducting a full-scale military operation and freeing the hostages unharmed is close to impossible.
The role of Egypt and the US in the crisis
Egypt is the only country that has a border crossing with Gaza, and it is under pressure from the US, Israel, and some Arab countries to open it for the Palestinian refugees. However, Egypt has refused to accept any refugees from Gaza, fearing that they would become permanent settlers in Sinai and pose a security threat. Egypt is also wary of Hamas, which has links to militants in Sinai and the Muslim Brotherhood. The US Secretary of State Antony Blinken plans to visit Egypt this weekend as part of a regional tour, and he may offer incentives to Cairo to cooperate.
The possibility of a regional war
The conflict in Gaza has raised tensions in the region, especially in Lebanon, where Hezbollah, the Iran-backed Shia militia, has exchanged fire with Israeli forces across the border. Hezbollah has also expressed its solidarity with Hamas and said it is fully prepared to join the war against Israel when the time is right. A full military engagement by Hezbollah would complicate Israel's position and escalate the conflict. Iran, which supports both Hamas and Hezbollah, may also have plans to widen the regional war.