What happened in the attack?
On Saturday, October 8, 2023, Hamas launched an unprecedented attack on Israel from the Gaza Strip. The militant group used motorcycles, pickup trucks, paragliders and speedboats to break through the security fence and infiltrate into nearby Israeli towns. They gunned down civilians on roads, in orchards and at a music festival, killing at least 700 people and wounding thousands more. They also dragged back dozens of captives, including women, children and the elderly, to Gaza.
How did Israel respond?
Israel retaliated with a massive bombardment of Gaza, hitting more than 800 targets and leveling much of the town of Beit Hanoun, where Hamas was using as a staging ground. Israel also cut off electricity, fuel and other supplies to the enclave, which has been under a blockade for 16 years. The Israeli military said it killed 400 militants and captured dozens more. The Gaza health ministry said 313 people, including 20 children, were killed in the territory.
What did the Israeli government decide?
The Israeli government formally declared war on Hamas and approved "significant military steps" to destroy its "military and governing capabilities". Prime Minister Benjamin Netanyahu vowed that Hamas "will pay an unprecedented price" and warned that "this war will take time" and "will be difficult". He also said the aim will be to prevent Hamas from threatening Israelis "for many years". The declaration of war portended greater fighting ahead, and a major question was whether Israel would launch a ground assault into Gaza.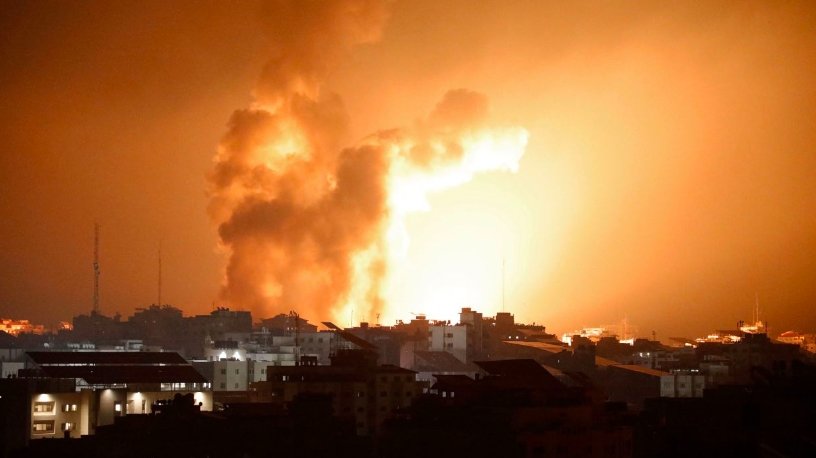 What are the challenges for Israel?
One of the challenges for Israel is the presence of hostages in Gaza. Hamas officials said they are holding more than 100 Israelis captive and will not release them until all Palestinian prisoners in Israeli jails are freed. Israel has a history of making heavily lopsided exchanges to get captive Israelis home, but this time it may face a tougher dilemma. Another challenge is the possibility of a wider regional war. On Sunday, Hezbollah fired rockets and shells at three Israeli positions in a disputed area along the border with Lebanon, and Israel fired back using drones. Hezbollah is an Iranian-backed militant group that has tens of thousands of rockets at its disposal and could join the conflict if destruction in Gaza escalates.
What are the consequences for the civilians?
The civilians on both sides are already paying a high price for the conflict. In Israel, many people are missing or mourning their loved ones who were killed in the attack. Some are providing DNA samples to help identify the bodies. Others are living in fear of another assault or rocket fire from Gaza. In Gaza, many people are displaced or homeless as their buildings were flattened by airstrikes. Some are staying in shelters run by the UN agency for Palestinian refugees, which said one of its schools was hit by fire. Others are facing shortages of food, water, medicine and electricity.
What is the international reaction?
The international community has expressed shock and concern over the violence and called for an end to hostilities. US Secretary of State Antony Blinken said as many as 1,000 Hamas fighters were involved in the attack, which he called "a brazen act of terrorism". He also said the US supports Israel's right to defend itself and urged both sides to protect civilians. The UN Security Council held an emergency meeting on Sunday and issued a statement calling for an immediate cessation of hostilities and respect for international humanitarian law. The statement also expressed support for efforts to restore calm and resume dialogue.
What will happen next?
The outcome of the war is uncertain and depends on many factors, such as the military capabilities and strategies of both sides, the diplomatic efforts of regional and global powers, and the public opinion and resilience of both populations. The war could end with a ceasefire agreement or a decisive victory for one side. It could also drag on for weeks or months or spread to other fronts. Whatever happens next, it is likely that the war will have lasting effects on the lives of millions of people in Israel and Gaza, as well as on the prospects for peace in the Middle East.