The Big Yin transforms his drawings into stainless steel artworks
Sir Billy Connolly, the legendary comedian and artist, has revealed his latest creations: two sculptures based on his drawings that reflect his experiences of travelling and performing around the world. The sculptures, called Direction and Two for the Road, are made of polished stainless steel and are being sold by Castle Fine Art.
Direction: a mysterious leader and a group of followers
Direction is a sculpture that shows a group of figures following someone who seems to be leading them somewhere. Sir Billy said he does not know who the leader is or where they are going, but he thinks it might be a woman in a dress. He said he likes to draw people who are doing something without knowing why, and he leaves it to the viewer to interpret the meaning.
Two for the Road: a tribute to his musical roots
Two for the Road is a sculpture that depicts a band of musicians playing various instruments. Sir Billy said it reminds him of his early days as a musician, when he was part of The Humblebums with Gerry Rafferty. He also said it reflects his love for people who are passionate about music and who enjoy looking at musical instruments in shops.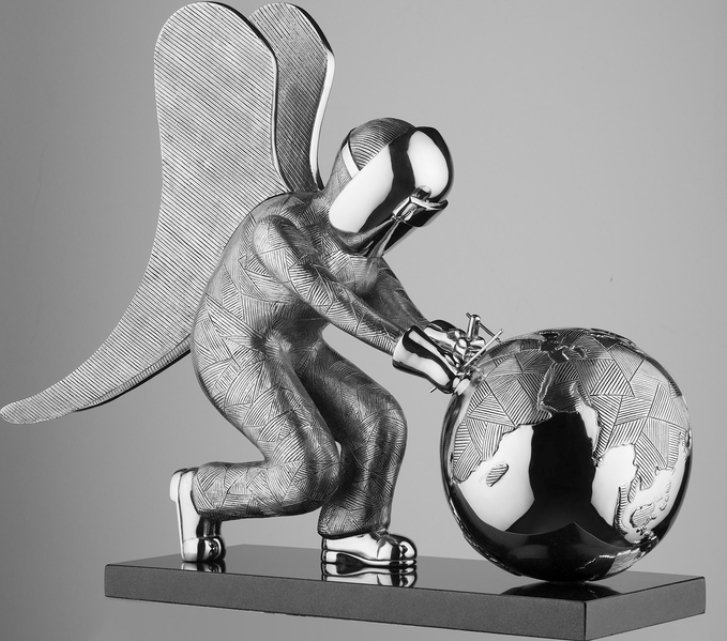 The process: from clay to steel
The sculptures were first made in clay by Sir Billy, who then sent them to a foundry where they were cast in stainless steel. The metal choice was influenced by his time as a welder in Glasgow's shipyards, where he learned to appreciate the beauty and strength of steel. The sculptures have a shiny and smooth surface that contrasts with the rough and sketchy style of his drawings.
The reaction: excitement and skepticism
The sculptures have generated a lot of interest and admiration from his fans and art collectors, who have praised his creativity and originality. However, they have also faced some skepticism from critics and experts, who have questioned the authenticity and quality of his work. Some have also compared his sculptures to those of other artists, such as Antony Gormley and Alberto Giacometti.
The motivation: a new way of expressing himself
Sir Billy said he started drawing in 2007, when he was in Canada and had some spare time. He said he found drawing to be a relaxing and enjoyable activity, and he has since become a prolific artist. He said he decided to make sculptures because he wanted to try something new and challenge himself. He said he hopes that people who buy his sculptures will live with them and enjoy them as much as he does.